We deliver business-critical technology solutions designed for any size business, in any industry.
Source: 13 Cabling Messes That Will Haunt Your Dream – Corporate Tech Decisions Although we're living in an increasingly wireless world, cabling is still a major part of every company's AV and IT technology concerns. If you've ever worked with wiring before, you know how much of a pain it can be to tuck everything…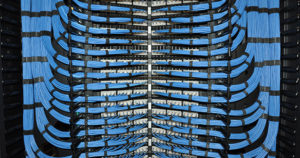 via ecmweb.com
A structured cabling system is a complete system of cabling and associated hardware, which provides a comprehensive telecommunications infrastructure. This infrastructure serves a wide range of uses, such as to provide telephone service or transmit data through a computer network. It should not be device dependent.
We further define a structured cabling system in terms of ownership. The structured cabling system begins at the point where the service provider (SP) terminates. This point is the point of demarcation (demark) or Network Interface Device (NID).
For example, in a telephone system installation, the SP furnishes one or more service lines (per customer requirements). The SP connects the service line at the point of demarcation.
…